Thai Cooking Class on Koh Tao
Would you like to learn how to cook Thai food in a Thai person's home on Koh Tao?

Take a cooking class with Parawan who's lived on Koh Tao for over 10 years, she invites you to come and take a Thai cooking lesson at her home. The maximum number of students that she can take for a cooking class is 4.
Whoever books in first for a particular day gets to choose which dishes it is that the class will be cooking, so it's worth booking early and of course you can check what if there are already people booked in and what will be on the menu before you book. Parawan is flexible with the start time for the courses, contact for more details.
Parawan has a young family and so classes are run after her children have gone to school at her home in Sairee so she can start the cooking class between 9:30am and 2pm.
Taking a cooking class on Koh Tao to learn how to cook authentic Thai food yourself is a great skill to take home from your trip to Thailand. You can then reproduce some of your favourite dishes at home whenever you like, impress your friends and family with your new cooking skills.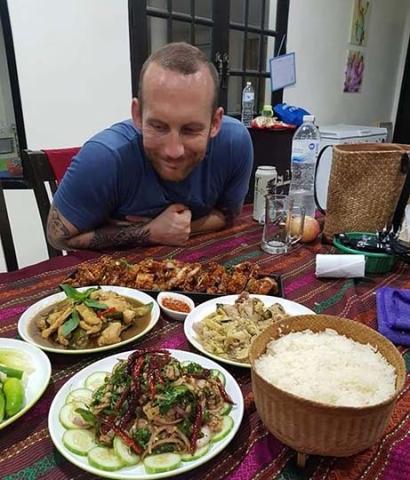 You will learn to make 3 dishes during the cooking course so if you have any favourite dishes then let Parawan know and she can teach you those. If you aren't sure then she can suggest some which dishes too cook with a bit of information from you. Let her know if you like spicy or not spicy, dislike fish for example or are vegetarian and she can suggest a menu for make on the cooking course. Who ever books in first for a cooking course on a particular day will get to select the dishes that the class will make so it's worth booking in advance if you have any particular favourites.
Below are just some of the options available that you pick from when you take your Thai cooking class Koh Tao, you can click here to see the Full Cooking Course Menu
Here are some set menus that you may like to cook in your class on Koh Tao if you aren't sure what you'd like to cook, if you are looking to take the course online then it will be just two dishes that you need to select.
Set Menu 1 - Massaman curry, Pad Thai and Spring Rolls
Set Menu 2 - Panang Curry, Tom Kha and Spring Rolls
Set Menu 3 - Green urry, Stir Fried Ginger and Spring Rolls
Set Menu 4 - Red Curry, Pad Thai and No Name Vegetables
Set Menu 5 - Panang Curry, Stir Fried Chicken & Vegetables and Non Name Vegetable
Please message via the Ask a question tab on the right or via her Facebook Page, website, the messenger link on the bottom right of this page or send a text or to WhatsApp +66875114654.